Jia Qinglin met with Speaker of the British House of Lords and Speaker of the House of Commons
---
2006-10-26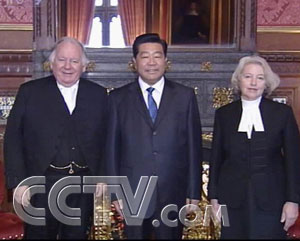 BEIJING, Oct. 26 -- China's top political advisor Jia Qinglin has met with the Speaker of the British House of Lords, Baroness Hayman, and the Speaker of the House of Commons, Michael Martin.

During the meeting, Jia Qinglin said the two countries have increased high-level visits and contacts between governments, parliaments and parties of the two countries. He said the two sides have established a comprehensive strategic partnership relations and made achievements in cooperation in various fields.
Jia Qinglin, chairman of the National Committee of the Chinese People's Political Consultative Conference, expressed his wish to enhance and develop bilateral ties and the peace, stability and prosperity of the world with the UK. Hayman and Martin also stated the importance of increasing exchanges between the two countries to push forward bilateral ties.
(Source: CCTV.com)